At lunchtime today, James blogged the news we have all been waiting for. He has confirmed a twelve week return to their special Saturday slot.
They will be discussing their return with Lauren Laverne on her Wednesday show. You can now listen to that clip here.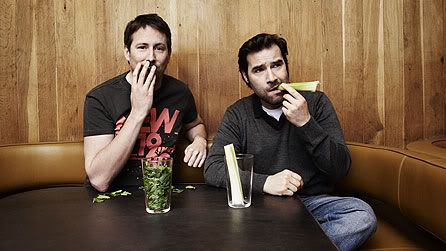 James Producer | 13:41 UK time, Tuesday, 1 March 2011
Good news – Adam and Joe return to their Saturday morning 10am to 1pm slot on 6 Music for a 12 week run at the beginning of April.

Here's what Adam had to say about the matter:

"I can't wait to get back to our show on Saturdays, I've really missed doing it. Not that I haven't been every bit as busy as Joe. I've created several new filing systems for my CD's and DVD's, successfully reunited over 20 odd socks with their partners and learned to understand the language of ants (though I'm finding Decs more of a problem). It's been fun but I'm looking forward to talking rubbish and playing brilliant music with Joe again."
Here's a little more from the BBC Press Office.