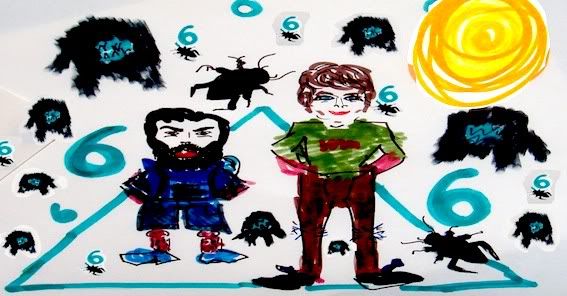 They may be nearing the end of their 6Music season but their diaries are full.
11th June 2011 The ultimate pen of the Summer 2011 Western House based Adam and Joe 6Music shows.
15th June 2011 Adam Buxton at The Idler at The Idler Academy, Notting Hill, London.
17th June 2011 Headlining with Issy Suttie & Andy Zaltzman. Richard Herring hosts this event at the Bush Hall, Shepherd's Bush, London but Adam doesn't list it in his calendar.
18th June 2011 The final London based Adam and Joe 6Music show (for the time being?).
24th, 25th & 26th June 2011 Glastonbury Shows broadcast from the 6Music hut between 10am and 1pm each day.
30th June 2011 BUG 7 (Norwich) at the Playhouse, Norwich.
12th July 2011 Adam hosts Silent Library starting at 10pm on FIVE Star.
13th & 14th July 2011 BUG 26 at the BFI, London. Tickets on sale to members from 7th June and non members from 14th June.
17th July 2011 BUG Latitude Special at Henham Park, Southwold. Adam is giving his stand-up show in the Comedy Arena at 16:25 on Sunday.
23rd July 2011 BUG Special in BRISTOL at Comedy Garden. Tickets available now.
29th July 2011 Attack The Block is released in the United States.
30th July 2011 Behind the Screen discussion with Joe Cornish in the Film4 Summer Screen season at Somerset House, London followed by a double bill of Die Hard and Attack the Block. Tickets on sale from 9th June.
25th to 29th August 2011 BUG Special 10:30pm at The Pleasance in Edinburgh – Check here for ticket details (on sale from 10th June here).
10th September 2011 BUG Special at the Greenwich Comedy Festival. Tickets available now.
19th September 2011 is the release date for the Attack the Block DVD, Blu-ray and Digital download. You can pre-order the Double Play here and the single DVD here.
22nd & 20th September 2011.BUG 27 at the BFI, London.
Not technically Summer but still worth a mention:
3rd November 2011 BUG Special in HULL at Quality Royal Hotel, Hull. Tickets available now.
5th November 2011 Bonfire Night. Stagger home from the firework fun and watch Attack the Block with your friends and family.
Always check The Wonderwall to see if anything new has been scheduled and Adam now has a calendar at his website although that sometimes differs from the ticket agent details.
Attack the Block stayed in the top 10 Box Office films for it's first three weekends. Check the Official Facebook Page to see if it's still on near you.